Tues 10/25/2011 CSA Farmshare Newsletter
The last Tuesday Newsletter! It's been fun – I hope you guys have enjoyed reading the storage and handling tips for your weekly produce and have tried some of the recipes.
Don't forget that you can either purchase your box by sending a check to the farm or return it to the staff working at the mart. We will be sending out a survey shortly and if you fill it out, you will receive a little incentive if you need a reason to come back to the farm to return your box!
Have a great winter and we all look forward to seeing you again next year for another great CSA season.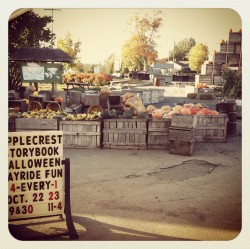 What's in this Week's Box
Cabbage
Lettuce
Beets
Corn
Cauliflower
Braising Greens
Winter Squash
Apples
Cider
Recipes:
Quinoa with Roasted Squash, Goat Cheese, and Greens
1 butternut squash (or any winter squash), peeled and diced into 1 inch pieces (scoop out seeds and set aside)
vegetable oil
1 tbsp curry powder/cumin
3 garlic cloves, unpeeled
1 cup quinoa
2 cups water or stock
1 bunch braising greens, stems cut into 1 inch pieces and leaves roughly chopped
5 oz crumbled goat cheese
pinch of hot red chili peppers (optional)
salt and pepper
Preheat the oven to 425F. Place the squash in a baking pan and drizzle with the oil to coat and sprinkle with spices. Add garlic. Roast for about 35 minutes, until slightly golden and tender.
Put the quinoa in a small pot and cover with 2 cups of water or stock. Simmer on low heat until the water has been absorbed by the quinoa. In a small saucepan, add the seeds and toast until slightly brown and crispy.
Meanwhile, heat some olive oil in a large skillet and add the green stems. Cook over medium high heat until they have softened a bit and then add the leaves. Cook until they have softened and are still bright green, about 7 minutes.
Place the squash, quinoa and greens into a large bowl and mix. Season with salt and pepper and the optional chili flakes. Add the goat cheese and gently toss. Sprinkle with the toasted seeds.
* this recipe would work well with any type of pasta instead of quinoa or add the vegetables onto a pizza dough or pastry tart with goat cheese or blue cheese.
Roasted Beets with Rosemary
1 bunch beets, scrubbed, cut into halves or wedges
extra virgin olive oil
salt
3 sprigs of rosemary
Preheat the oven to 400F. Place the cut beets in a sheet of tin foil and drizzle with olive oil, sprinkle with salt and mixed in with the rosemary. Fold the foil to seal and place on a baking dish. Roast for an 1 hour – 1 ½ hours, until tender.
Grilled Red and Green Cabbage Slaw
*From Epicurious.com
Nonstick vegetable oil spray
1/2 cup tarragon vinegar
1/2 cup sugar
1/2 cup vegetable oil plus additional for brushing
2 tablespoons Dijon mustard
1 tablespoon chopped fresh tarragon
1 medium head of red cabbage (about 1 3/4 pounds), quartered through core
1 medium head of green cabbage (about 13/4 pounds), quartered through core
1 bunch green onions (about 6), trimmed
Spray grill rack with nonstick spray. Prepare barbecue (medium-high heat). Whisk vinegar, sugar, 1/2 cup oil, mustard, and tarragon in medium bowl. Season dressing with salt and pepper.
Brush cabbages and green onions with oil; sprinkle with salt and pepper. Grill cabbages until dark grill marks form, 3 to 4 minutes per side. Grill green onions until charred on 1 side, 2 to 3 minutes. Transfer vegetables to work surface.
Chop green onions and cabbages; place in large bowl, discarding cores. Add dressing; toss to coat. Season slaw to taste with salt and pepper.
Beet and Cabbage with Horseradish
*From Seasonalontario.com
1 bunch red beets
1 cup finely shredded red cabbage
2 tbsp dark brown sugar
2 tbsp vinegar
1/2 tsp salt
black pepper
1 tbsp hot horseradish
Put the beets in a pot with water to cover and boil until tender; about 45 minutes (depending on size). Allow the beet to cool, then peel it (leave the stem end on to give you something to hang onto) then grate. Mix it with the finely shredded cabbage. There should be rougly equal amounts of each. Put the brown sugar, vinegar and salt in a small pot an heat until the sugar and salt dissolve. Mix in the horseradish, and toss this dressing into the beets and cabbage. Let the salad marinate for 2 hours to overnight before serving.
Roasted Cauliflower and Thyme Soup
1 lb cauliflower florets
3 garlic cloves
1 small onion
2 tbsp olive oil
3 cups vegetable broth
1 cup water
1 tsp finely chopped fresh thyme leaves
1 bay leaf
2 cups heavy cream
Preheat oven to 425°F. In a large baking pan toss cauliflower, garlic, and onion with oil to coat and roast for about 30 minutes, or until golden. In a pot simmer broth, water, roasted cauliflower mixture, and herbs for about 30 minutes, or until cauliflower is very tender. Discard bay leaf and with a handheld immersion blender, puree soup in batches until smooth (use caution when blending hot liquids). Stir in cream and salt and pepper to taste.
Cauliflower and Penne Pasta
*From NYTimes.com
1 lb cauliflower
Salt and freshly ground black pepper
1 tablespoon minced garlic
1/4 cup olive oil
1 pound penne, fusilli or other cut pasta
1 cup coarse bread crumbs
Parmigiano Reggiano
Bring a large pot of water to a boil with a tablespoon of salt, and boil the cauliflower in it until it is tender but not mushy. Using a slotted spoon, remove the cauliflower and set it aside. When it is cool enough to handle, chop it roughly into small pieces.
Meanwhile, in a large deep skillet over medium-low heat, saute garlic in olive oil, stirring occasionally, until garlic is golden. Start cooking pasta in same pot and same water as was used for the cauliflower.
When the garlic is ready, add the cauliflower and bread crumbs to skillet, and turn heat to medium. Cook, stirring occasionally. When pasta is just about done — it should be two or three minutes short of the way you like it — drain it, reserving about a cup of cooking liquid.
Add pasta to skillet containing the cauliflower, and toss with a large spoon until they are well combined. Add salt and pepper to taste, along with just enough pasta water to keep the mixture moist but not soupy. When the mixture is hot and the pasta is tender and nicely glazed, serve. Sprinkle with cheese.
Mulled Cider
Simmer cider with cinammon stick, 2 all spice berries, 2 cloves for about 15 minutes until the flavors infuse. Discard the spices and serve with a couple thin apple slices.