2015 FIRST FarmShare CSA Newsletter, week of June 16th, 2015
 What's happening on the farm this week?
First CSA distribution! We are so happy this day has finally come. Thank you so much for being patient with us , this spring was definitely a little bit strange: very cold, then warm, then too hot and dry, cold again, hot again, and finally some rain today! We've had some issues with germination because of the lack of rain but hopefully, now that we've got it, our greens, root crops, peas, beans and lettuces will take right off and end up in your baskets in the coming weeks.
This past week on the farm we did started harvesting our strawberries. Fortunately for them, we have irrigation set up in the patch and they are flourishing with just the right amount of water and heat. Our berries are sweeter than they have ever been! Saturday was officially our first Pick-Your-Own strawberry day ($3.25/ lb) and we're busy planning our Grand Opening and Strawberry Festival, which is coming up in a few weeks!
If you haven't yet, we strongly encourage you to check out our brand new Farm Market barn and Farm Bistro. This time last year we were just pouring the concrete floor! About time we get to enjoy the awesome space we have there. Remember, as a FarmShare member you receive a 10% discount on purchases in the Farm Market. This discount does not apply in our Farm Bistro.
Pick-up location details
Applecrest Farm
If you are picking up at the farm, either Tuesday (2:30pm-6:30pm) or Friday (10:30am-2:30pm), the pick up location will be in our old barn/farm market. Feel free to park in the Creamery parking lot. We will be handing boxes out of the far end of the barn, behind the stage set up. Look for the open barn door and some smiling faces!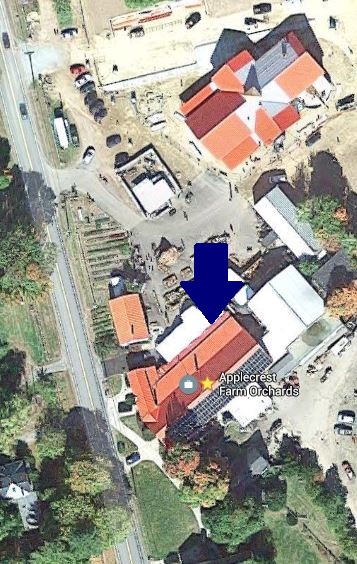 Papa Wheelies Bike Shop
If you are picking up at Papa Wheelies on Tuesday from 3:30pm-7:00pm, the pick up will be right in their parking lot. Look for the large white box truck and a member of our crew!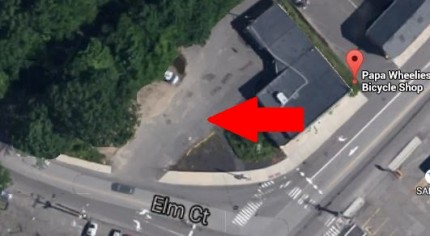 Domain Drive
If you are picking up at 100 Domain Drive pick ups are Thursdays from 11:45am to 12:45 pm. Pick-up is at the rear loading dock, directly next to the TCI Tire Warehouse offices. If you enter the building at the front, where the cafe is, take a right and follow the hallway straight past the cafe seating area, down past the Bauer wing, through a set of double doors, down that hallway and then your first left through a set of swinging doors. At the end of that hallway is the loading dock and you will find us!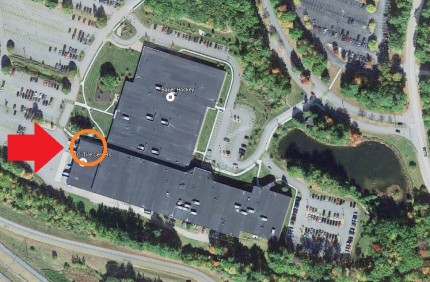 Memories Ice Cream
Pick ups at Memories Ice Cream in Kingston NH are Thursdays from 2pm to 6pm. The staff there will be handing out boxes at the ice cream window.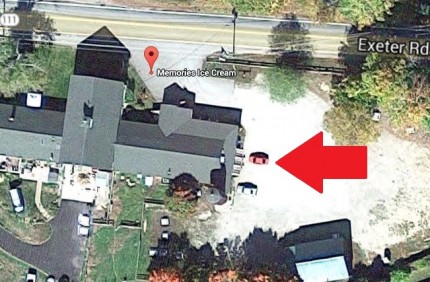 Now that we're past the nitty gritty: We look forward to getting to know those of you we don't know yet, re-connecting with familiar, loyal faces and having a wonderful season!
What's in this week's box?
Veggies:
Spring Mix
Head of Lettuce
Mesclun Mix (Spicy greens)
Rhubarb
Fruit:
Strawberries- "All-Star", "Wendy", "Nor'Easter", "Evangeline", "Itasca" (Early Varieties)
Miscellaneous (and delicious)
Cider Donuts
Storage, handling and general cooking tips…
Strawberries:
Storage and Handling– Use your strawberries as soon as possible (this usually isn't a problem for me) as they stop ripening as soon as they're picked.  Don't wash your strawberries until you're ready to use them, as moisture causes them to spoil more quickly.  Leave the caps on and store your strawberries in an uncovered container in the fridge. Take them out of the fridge about an hour before you're ready to use them, as they tend to have the best flavor and texture at room temperature. Rinse your strawberries gently in cold water and then pat them dry with a towel.  Finally, remove the tops with a paring knife or with a slight twist of the wrist, and they're ready to eat or use in your favorite strawberry recipe.
Lettuce, Salad Greens and Mesclun:
Storage- Store unwashed lettuce, greens or mesclun in a plastic bag in the refrigerator. To store lettuce or greens that you have already washed and dried, roll the leaves loosely in a kitchen towel, put the towel in a plastic bag, and place the package in the vegetable crisper bin. Wet greens will wilt quickly, so make sure they are good and dry before refrigerating them. If you have a salad spinner, wash and spin the greens before refrigerating them. Eat mesclun mix within three or four days, and use lettuce within a week.
Handling- Salad greens are fragile, so make sure to be gentle with them.  For lettuce, slice the head at the base to allow the leaves to separate from each other.  Tear your leaves into smaller more manageable pieces for use.  Lettuce, greens and mesclun mix can be washed by swishing them around in a basin of cold water.  If you see a lot of dirt settling in the water, wash them again, until they're nice and clean.  The best way to dry your greens is in a salad spinner if you've got one, or if not, you can always pat them dry with a towel.
Cook Tips- Salad greens taste great lightly braised or stir-fried, but keep an eye on them, as they cook very quickly.
Try adding salad greens into sandwiches, tacos, burritos, omelets, or whatever else you can think of!
Salad greens are a great addition to quiches, lasagna, and other baked dishes, wanna green up your pizza? It's great on top, right after you pull it out of the oven.
Our mesclun mix isn't that spicy: a combination of peppery arugula, mustards, mizuna and some tat soy. These greens are great as a pizza topping, on top of an egg and toast, or simply added to your daily salad.
Rhubarb:
Store-Place stalks in a plastic bag to retain moisture and place in the fridge's crisper drawer. It should keep for about a week. Rhubarb can also be frozen; to do this cut stalks in to 1 inch chunk and place in an airtight plastic bag. Frozen rhubarb should be able to keep for up to a year.
Handling- To prepare , remove all the leaves (they are toxic), rinse and pat dry. Trim the ends and cut into 1 inch chunks. Remove tough strings as you would with celery. String will usually break down during the cooking process.
Cook tips- Stew or bake with a little water and plenty of sugar to combat the tartness. Rhubarb can quickly cook into a syrupy liquid, so keep an eye on it, you need it to retain some texture for specific recipes.  Generally, the redder the stalk, the sweeter the end product will be.
Eggs:
Store- Our producer, Pete & Gerry's, recommends storing the eggs in a refrigerator, reason being that they wash their eggs before sending them to market. This makes them slightly more porous and in turn the eggs age a little faster.
FYI-You may be wondering why there is a discrepancy between eggs and refrigeration around the world. Well, we did too and did some research. In the US, industry standards are to wash the eggs before sending them out, in order to lower the risk of transmitting diseases. That's not to say that local small scale egg producers' eggs aren't clean, but they probably haven't been subjected to a pressure wash.
Recipes of the Week!

Take a fancy foodie picture with your Applecrest fruit and veggies? Let us know and post it on Facebook or Instagram or Twitter with #applecrest !
Spring Greens and Strawberry Salad with Maple Vinaigrette
Curried Rhubarb Chicken
Lettuce Wraps with Marinated Flank Steak and Kimchi with Sriracha dipping sauce
Strawberries and Reduced Balsamic Vinegar over Ice Cream
Rhubarb Crumble with Rosemary & Lemon
Spring Greens & Strawberry Salad + Maple Vinaigrette
From Perry's Plate
Ingredients:
For the Maple Vinaigrette:
1/2 teaspoon dried basil
1 teaspoon dry mustard
1/4 cup balsamic vinegar
3 Tablespoons maple syrup
1 Tablespoon lemon juice
1 clove garlic, minced
1 cup extra-virgin olive oil
1/4 teaspoon black pepper, or to taste
1/2 teaspoon salt, or to taste
For the Salad:
5-6 fresh strawberries, tops removed and sliced
1/2 cup walnuts, pecans, or almonds, roughly chopped
1/2 cup goat cheese or blue cheese crumbles
12 ounces of spring greens salad mix
Directions:
To make the vinaigrette:
In a medium-sized bowl, combine the basil and mustard. Whisk in the vinegar, maple syrup, lemon juice, and garlic. Slowly pour the oil into the mixture while whisking. Whisk for about 15-20 seconds until mixture has emulsified and thickened slightly. Whisk in salt and pepper, adjusting to suit your tastes. Store in an airtight container in the refrigerator. (Makes about 1 1/2 cups of dressing.)
To make the salad:
Toss about 1/3 cup of dressing with the salad greens and divide among plates. Add strawberry slices, nuts, and cheese over top.
Curried Rhubarb Chicken
From Food Floozie
2 tablespoons + 3 tablespoons oil
1/2 teaspoon + 2 teaspoons kosher salt
1/2 teaspoon red pepper flakes
1 teaspoon coriander
1 teaspoon cumin
1 teaspoon ginger
2 teaspoons curry powder
1 small onion, chopped
1 cup white wine
1/2 pound rhubarb, ends trimmed, cut into 1/2" pieces
4 pounds chicken thighs and drumsticks
1/2 teaspoon freshly ground black pepper
1/3 cup brown sugar
Preheat oven to 425F.
In a medium saucepan, heat 2 tablespoons oil over medium heat. Stir in 1/2 teaspoon salt, red pepper flakes, coriander, cumin, ginger and curry powder; saute 1 minute. Add onion and cook for 2 minutes, stirring occasionally, until onion softens a bit. Add wine and rhubarb; bring to a boil, then cover and cook 10 minutes over medium heat. Stir, then re-cover and cook 10 more minutes until rhubarb has broken down into a sauce.
In a 10" skillet, heat remaining 3 tablespoons oil over medium-high heat. Season chicken with remaining 2 teaspoons of salt and the black pepper. Place chicken into the skillet skin-side down; cook 5 minutes until well-browned, then turn chicken over and cook 5 more minutes. Place chicken skin-side up into a greased 9"x13" baking dish, and pour rhubarb sauce over it; sprinkle with brown sugar.
Place baking dish into the oven and bake chicken for 40-45 minutes.
Serves 6-8.
Lettuce Wraps with Marinated Flank Steak and Kimchi with Sriracha dipping sauce
From Mark Bittman
Ingredients
4 tablespoons freshly squeezed lime juice
2 tablespoons soy sauce or fish sauce (nuoc mam or nam pla, available at Asian markets)
1 teaspoon minced garlic
1 teaspoon peeled and minced or grated fresh ginger or 1 teaspoon ground ginger
1 teaspoon sugar
Salt and freshly ground black pepper to taste
1 flank steak, 2 to 2 1/2 pounds
1 head lettuce
1 cup mayonnaise
2 tablespoons sriracha or other chili sauce
2 cups fresh kimchi
Preparation
Baking Directions:
Combine lime juice, soy sauce, garlic, ginger, sugar, salt and pepper in a shallow bowl or platter and marinate the steak for at least 30 minutes (if the marinating time is longer than an hour, refrigerate). Near the end of the marinating time, start a charcoal or wood fire or preheat a gas grill or broiler; make it very hot.
Remove the meat from the marinade and dry well with paper towels. Grill or broil the steak about 4 inches from the heat source for 3 to 4 minutes per side, or until nicely browned. Move the meat to a cooler part of the grill (or lower the broiling rack) and cook for another 2 minutes per side. Check for doneness by touch, with a thin-bladed knife, or, preferably, with an instant-read thermometer (125 degrees is about right for rare to medium-rare).
Let rest for 5 minutes before cutting into thin slices, across the grain, using a sharp carving knife. Let cool.
Separate lettuce leaves and arrange on a platter. Combine mayonnaise and sriracha and place in serving bowl.
Serve sliced steak, lettuce leaves, kimchi and sriracha dipping sauce on a platter and let everyone assemble their own rolls.
Strawberries and Reduced Balsamic Vinegar over Ice Cream
Strawberries and balsamic vinegar are meant to be together, enjoy them as a savory appetizer or as described here, a dessert highlight!
Ingredients
1 cup aged balsamic vinegar
1 lb strawberries, hulled and halved
1 tblsp orange juice
Vanilla ice cream
Heat vinegar into a small saucepan and simmer over medium-low heat until thick, syrupy and reduced to about 1/3 cup, around 15 minutes. Watch very carefully to make sure vinegar doesn't burn Set aside to cool.
Toss strawberries with orange juice and set aside.
When vinegar has cooled to room temperature, scoop ice cream into dishes, top with strawberries and drizzle with balsamic vinegar reduction. Grab your spoon and enjoy!
Rhubarb Crumble with Rosemary & Lemon
from CSA Member JoLynne Johnson, Thank You!
For the Crumble Topping
3/4 cup flour
1/4 cup sugar
1/4 cup brown sugar
1/2 cup oats
6 tablespoons unsalted butter, cold and cut into small cubes
1/4 teaspoon salt
Place all the ingredients in a bowl and cut with a pastry cutter or two forks, or use your hands to pinch the butter with the other ingredients. Cut or pinch until the butter is all the size of small peas. Chill.
For the Filling
2 1/2 cups rhubarb, chopped
1/3 cup strawberries, chopped
1 teaspoon rosemary
1 tablespoon lemon zest
2 tablespoons lemon juice
1/3 cup + 1 tablespoon sugar
Combine all the ingredients together in a bowl and let sit for 30 minutes.
Preheat oven to 350F. Lightly butter a medium-sized baking dish and pour in the rhubarb mixture. Level it out with a spoon. Spoon on top the crumble mixture and spread out evenly. Bake for 25-30 minutes or until top has browned a bit and the juices bubbles up the sides. Allow to cool for 10 minutes. Serve.
As a reminder, part of the fun of being a member of a CSA is collaborating with your community, so always feel free to post cooking suggestions or feedback on recipes that we post, or favorite recipes of your own that you'd like to share.