FarmShare CSA 2017, First Week
First week of CSA!
On behalf of everyone at Applecrest, we welcome you! Your support is crucial to us and we sincerely hope that you enjoy the bounty you are about to receive for the next twenty weeks of our harvesting season.
Below are all the things you need to know for your first CSA pick up of the season. Be sure to look at the information specific to your pick-up day and location.  If you're unsure as to which location you selected when enrolling, please refer to the confirmation email you received when you first signed up.  Additional questions?  Always feel free to email us at CSA@applecrest.com or call us at 603-926-3721 and ask to speak to a CSA crew member or manager.
The ins & outs
Each week you will receive a weekly newsletter informing you of 'what's in this week's share' in addition to any relevant farm news or important pickup information which is particularly helpful in planning meals and weekly shopping lists. For your convenience, we've made our resources available anywhere, anytime at: http://www.applecrest.com/blog. Our blog has all the good stuff you need to know about our produce, simply type in 'Produce Storage' in the search past articles tab in the News & Events page. Not only will this highlight each crop's nutritional benefits, it describes how to handle and store your produce.  There's also a plethura of recipes from years past that members have shared over the years that you can easily access.
Last but not least, a friendly reminder to everyone about the share boxes
On your first day of pick-up you will receive a custom-made wooden box containing all your freshly picked fruits and veggies.  PLEASE DO NOT throw this box away!  Each week members are required to bring the empty box back to pick-up and swap it for your new, freshly filled share.  If you forget to bring your box the following week, you will get your share in a cardboard box or plastic bag.  Also, an important hint: we pick our produce in the cool of first morning light, so if you happen to be doing errands after picking up your produce, please DO NOT leave it in the car.  We recommend coming prepared with a cooler and ice pack to ensure quality and freshness if you are not planning on returning home after pick-up.  We also strongly encourage Workshare members that don't have access to a refrigerator or a cool place for storage, to bring a cooler to keep your produce in the best state possible. WorkShare locations are not listed below as they are for employees only.
Please note that despite all our best plans and intentions, share contents are subject to last minute changes due to weather, field conditions and random acts of mischief by our beloved Mother Nature.

What's in this week's share?
Veggies:
Radish
Rhubarb
Cherry Tomatoes
Swiss Chard
Fruit:

Strawberries!!
What you need to know….Pick Up Details & Locations
Applecrest Farm

Pick-ups at the farm will be in the old barn near the Creamery on Tuesday (2:30pm-6:30pm), Wednesday (11:30-2:30), & Friday (10:30am-2:30pm), you will see our CSA crew awaiting your arrival.  Options for parking are shown below and color coded for your convenience.  In the Creamery Lot you can park in the green or blue areas.  The main parking lot is highlighted in yellow, and the field parking for the able bodied is highlighted in orange.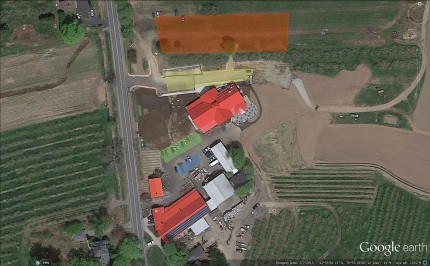 Papa Wheelies Bike Shop
If you are picking up at Papa Wheelies on Tuesday from 4:00pm-7:00pm, the pick up will be right in their parking lot. Look for the large white box truck and a member of our crew!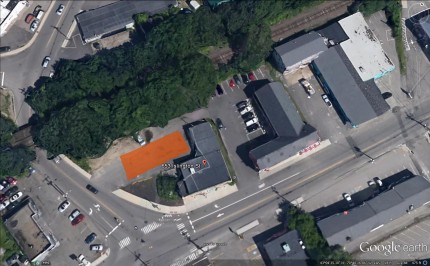 Memories Ice Cream

Pick-ups at Memories Ice Cream in Kingston, NH are Thursdays from 2pm to 6pm. The staff there will be handing out boxes at the ice cream window.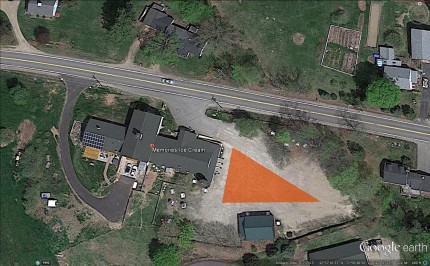 See you on the farm or on the road!
Cheers,
The FarmShare Team