Pick Your Own and Find a $100 Bill!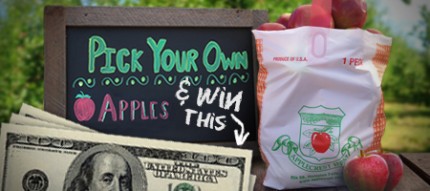 This coming Saturday and Sunday, September 28th & 29th, come pick-your-own apples at Applecrest and YOU could be a lucky winner of a one hundred dollar bill! As part of our farm's 100th anniversary celebrations, a bevy of benjamins will be randomly stashed in PYO bags passed out to our weekend pickers of red, ripe and ready McIntosh and Cortland apples.
Photos of last weekend's 100 buck winners can be found here. This weekend, it could be you! So, come on down to our Fall Harvest Festival for your chance at an extra special full day of fun. We'll be waiting for you with cider donuts, roast corn, burgers and hot dogs, hayrides and tractor rides, live bluegrass music, fresh-made ice cream, pies, preserves and every home grown fruit and veggie under the sun.
Learn more on our Festivals & Happenings page.
See you at the farm!